Bernstein Receives Outstanding New Environmental Scientist Award
February 10, 2021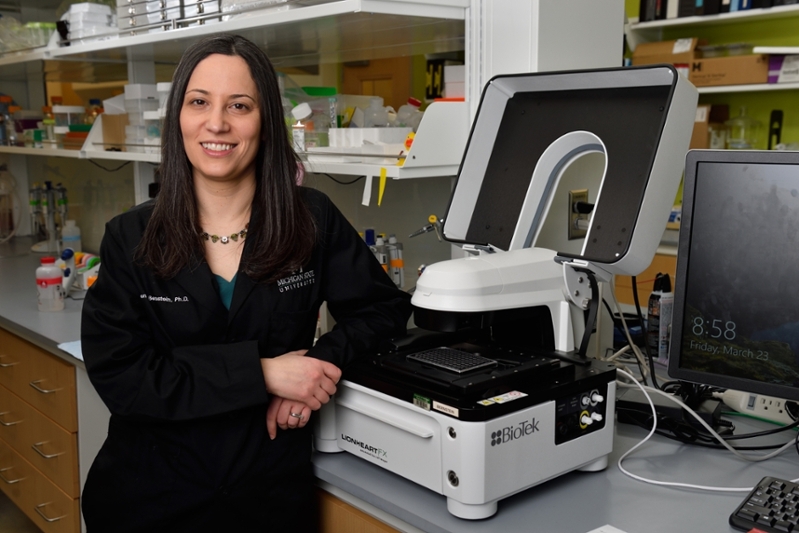 Alison Bernstein, a College of Human Medicine assistant professor of Translational Neuroscience, has received an Outstanding New Environmental Scientist Award from the National Institute of Environmental Health Sciences (NIEHS).
The award is in recognition of her research into the interaction of genetics and environmental exposure, such as how some pesticides alter neurons in the brain that produce dopamine, a chemical that declines in Parkinson's patients.
"I'm ridiculously excited," said Bernstein, PhD. "There are some amazing scientists who received this award before me. I'm humbled I'm now part of this group.
"It's not me alone," she added. "It's all the mentors who trained me to be a good scientist and everyone in my lab who worked on these projects."
NIEHS, an agency of the National Institutes of Health, created the award to encourage "America's future environmental health research leaders at the start of their careers."
It comes with a grant of $500,000 the first year and $250,000 in each of the next four years to support Bernstein's research into the pesticide dieldrin and its possible connection to Parkinson's disease. Dieldrin was commonly used on crops as an insecticide in the 1950s through 1970s and to kill termites into the 1980s. It eventually was banned by the U.S. Environmental Protection Agency.
The pesticide, similar to many others still in use, remains in the body long-term, suggesting that an exposure even decades ago could trigger Parkinson's, particularly in people with a genetic predisposition to that disease, Bernstein said.